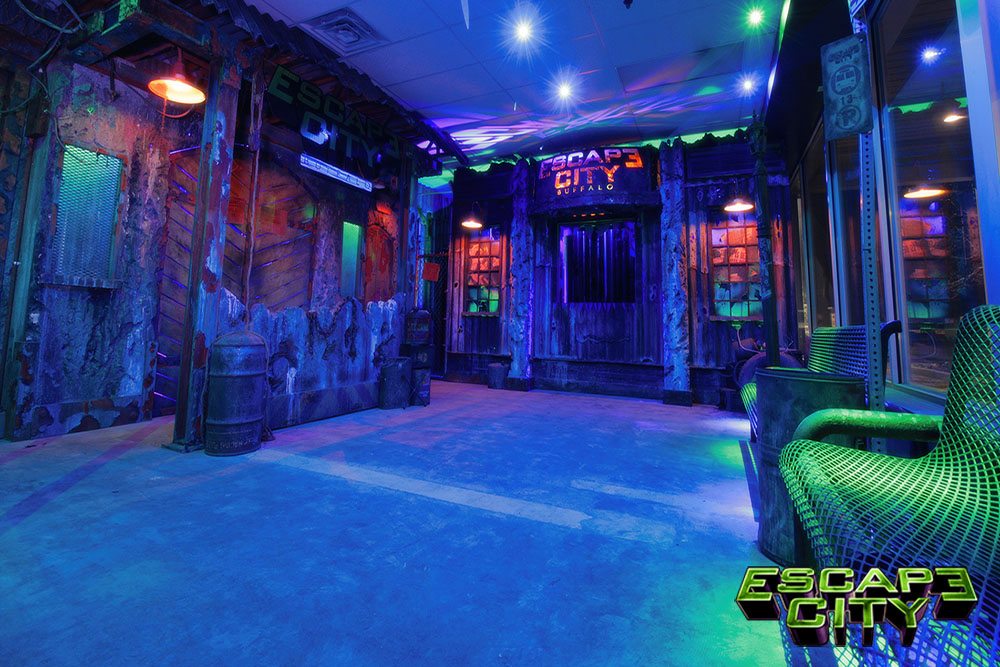 Escape City Buffalo is Buffalo's newest and most creative Escape Room in the market.
In this blog, we will outline what an escape room is, how an escape room works, and what to expect when you and your group arrive at Escape City Buffalo. Escape City Buffalo is great for groups of Friends, Family, Team Building, Corporate events, and parties!
Firstly, I would like to introduce ourselves. We are the creators behind Frightworld, America's Screampark and we have designed a unique experience. It's up you and your friends to find all the clues and solve the puzzle within 60 minutes. Using award winning scenic designers, writers and artist to create one of a kind escape games that contain clues, puzzles and secret passages that you will have to solve in order to unlock the room and escape.
So, what is an Escape Room?
An escape room is a physical adventure game in which players solve a series of puzzles using clues, hints and strategy to complete the objectives at hand. It is a fully immersive, 3 dimensional, multi-sensory form of entertainment where you have to rely on your own skills, instincts, and intellect to get out of a "locked" room. Each room is fully wired for sound and video so you're never alone. Your price of admission gives you access to the themed room of your choice. Players can attempt to escape the room with family, friends, or co-workers and players are given a set time limit to unveil the secret plot which is hidden within the rooms. Escape rooms are inspired by "escape-the-room"–style video games.
Within the past couple of months
we opened our first game; Body Collectors. Body Collectors is a suspenseful game where you and 7 other friends will get to play in one of Buffalo's newest and largest horror themed escape game. The Body Collectors have selected you to be a part of their twisted games. Can you prove that you are worthy to live your life? Or will you become another piece of their ever-growing collection?
So here is how it works:
A group of individuals ranging from 4-8 players or 4-10 players (depending on the room you choose) will be briefed with a story line by the Gamemaster. You have just been selected by the Body Collectors to be a part of their twisted games.  What's your mission? GET OUT AS FAST AS POSSIBLE!  Sounds easy, right? NOPE. You will come across challenges and it's up to you and your team to think like the Body Collectors to solves the puzzles to unlock the doors that will save your life! The timer is set, the rules have been read, now its survival of the fittest.
You enter the decrepit work area of the Body Collectors. At first, the room looks like a dingy basement work area of a mass serial killer. Then, you and your team work together to absorb as much information that you can see. There are tools, several shelves, and clocks – what does all information pertain to? Does the clock have a secret code? Do the tools open anything? Why is there tool chest? It all has a meaning and it's up to you to solve this. . . . All the while, the clock is ticking down.
Over the next month, we are scheduled to launch our next escape room; Over the Falls. Canadian pirates have seized your old cargo ship on a voyage across the Mighty Niagara River. After stealing the goods, the pirates abandon ship and send you barreling towards the Niagara Falls. You have exactly 60 minutes to escape before you go OVER THE FALLS. This Escape room will allow players of 4-10 in group size to work as a team to make their way off the boat before it goes over the falls.
In June
our next Escape Room will open; The Hangover. After a crazy night out on the town during vacation, you and your friends wake up locked in a room with no clue where you are or what happened. You'll need to put the pieces together of what happened last night and escape before your flight home takes off. – This is BUFFALO'S FIRST ADULT ONLY ESCAPE GAME and we have never been more excited to launch this one. After several collaboration meetings, this room is taking things to the next level in adult entertainment, and we think the fans are going to love it.
By mid-summer, our 4th room will be set to open; Ghost Mansion. You and your friends are dared to spend a night in the legendary ghost mansion. Once inside, you realize that the mansion truly is haunted and the ghosts don't want you to leave. Find the clues and secret passages to escape before the ghost claim you as one of their own.
Here at Escape City Buffalo
We are providing 1 hour entertainment to several different styles of groups. We offer escape rooms for people who like the thrill of scary things (Body Collectors)! Groups interested in spooky atmosphere with not a lot gore (Ghost Mansion). Adult friendly rooms with a twist of laughs and jokes (The Hangover)! And our adventurous and tourist that like the see themes of a Buffalo staple (Over the Falls).
We have spent the past several years researching the escape room business and understand the customer base. So far, our fans that have visited and have said some great things about us. Here is what some of them had to say:
"Awesome room! I have done several different escape rooms and this was my favorite. You can clearly see there was a lot of time and effort put into the rooms and puzzles! Highly recommended!"
"Body Collectors was an absolute blast. The amount of detail the crew put into this design was incredible. Our group of seven people finished it with just a couple minutes to spare.
Even the most easily-frightened will have a great time in body collectors. There are no entities that come out and grab you, which was a big plus. We loved it! We can't wait for the other rooms to open!"
"Outstanding escape! The staff was great, friendly and outgoing. The props used were very realistic and just helped put the whole experience over the top. I'm sure it helps that these guys also create a great haunted house. It's going to be difficult for any other place to top this. Can't wait for their other 2 rooms to open. Highly recommend this place. You absolutely won't regret it."
"This escape room compared to any other escape rooms I've been to is the difference between Disney world and any other mediocre theme park."
"I didn't think we were going to do as well as we did with 3, 13 year old boys, my friend and myself! We did awesome! We did body collectors and they did a great job designing the room! Can't wait to go back and do another soon! Planning on doing all 4!!!! Great job to the designers of these rooms"
To end this today, we would like to say thank you for all your support so far and we look forward to having you visit our escape room! Continue to visit our blog as we will be adding new posts every month with updates!